resting on a mountain of memories
this is what i know to be true....
when the first loon calls,


desire will catch in your heart
suspending  time
somewhere
between
their longing and your own.
as your footsteps quiet
on the last stone
only your eyes will move
searching the shallow waters
schools of cinnamon brown fish clinging to the shoreline,
 and just as suddenly realize
they are pine cones of winter,
fallen, forgotten and tumbled into the lake. 


they will be first to greet you
swaying so silently close, just beneath the sunlit water
like so many beloved ancestors
sorrowfully gone 
clinging to each other in their eternal quest 
to remain near us...
hanging on each grateful syllable 
they too are suspended in time,
their voices all tied up with ours
in the longing of loons..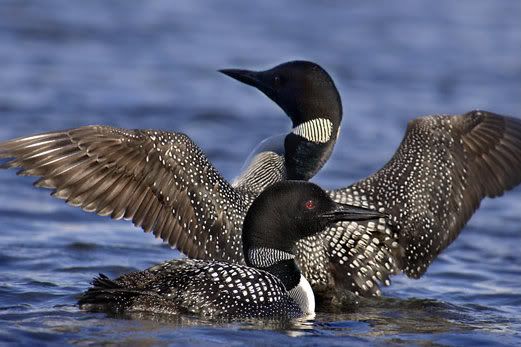 here the details of life slip away like so many autumn leaves,
abandoned in the dark shadows of sun warmed paths
 for time worn buckets
 soon rich with laughter, mushrooms, mosquitoes and
berries.
than being present, to cheer on each lengthening child 
as they mark their milestones
driving the old willy's jeep
skiing, two skis, one ski, 
 ahhhhhh brazenly barefoot
across the sun warm water of youths dreams.
what remains true is knowing
there is nothing more important than
simply being
in love
with the creak of the screen door and every treasured visitor it brings.
 seeing your beloved, aging mother, husband, wife..



as the child they once were....
skimming across the water...
golden in the firelight
together around the breakfast table
forever brightened with summer's flowers
and longer, cherished memories...
taking us
back back back....
to everything 
that is forever important
a bud vase
with wild fragrant roses
on a sunbright table, in a blue-grey cabin


resting on a mountain of memories
with a heart
like a door
that is always open.
***
my husband flew to side lake on monday..
to be with his mother, sister and two out of five brothers.
it is strangely quiet here.
especially with parts of me
all wrapped up 
in the longing of loons.