it is a parable to feel the earth tilt
while skimming on still waters.
this is a story of noticing.
this is the sound of clarity watching over you even while you sleep.
this is when.......
lying there under the lightening stars
it might have been loons
requiring  me...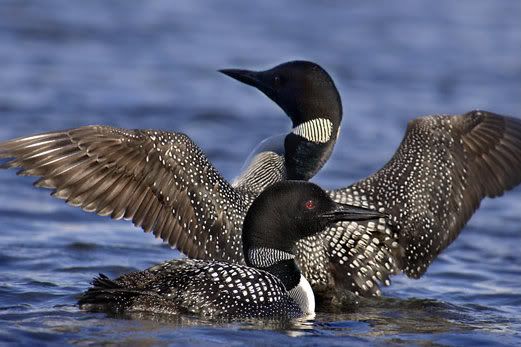 to lift my head above the extra covers of autumn's reproach.
what waited was sky held breathless in fascination of a blue glass lake.
sky falling into open water,
water deepening the face of sky.
everything in between
stained in 
adoration.

we threw off our separate dreams,
 dressed in a silver canoe and
together floated weightless
on all that surrenders.
this is when i felt the earth tilt.
my husband,
so strong and longer limbed
stroked effortlessly into the willing water.
stationed in front,
i could not see his silver dipping arcs becoming wings, 
dripping crystal water..
i could hear,
 that it was so.
from behind, he held witness to the majesty of mine.
the two of us
from a distance became a single bird 
he the left wing,
me the right.
sailing 
forward 
in all that shimmering light.
was it purely the act of willfully leaving behind the tangle of gravity and time?
the dark weight of physical constraints becoming 
round smooth manageable stones whirled 
freely from open palms to sing 
across the open plane.
no
need,
no matter.
just the magnificence of wings and weightless surrender.
there, in front, as liberated as flying, my oars circling in utter silent delight. 
countless drops of clarity dripping off our every move.................
he could not see my tear stained cheeks, my lifted heart.
but the breeze that drifted back to him...
that rolled off the silhouette of joy
carried the distinct taste
of love, a trace of
brine.